What is an "Agriturismo in Toscana" ? It's not a villa or a hotel. The term 'agriturismo' refers to a set of apartments in the farmland and run by farmers, which gives visitors the chance to experience sustainable tourism in beautiful surroundings.
Le Ceregne Tuscany Farmhouse is a 60 hectare estate, cultivated according to the principles of organic farming: here you can have a proper holiday in Tuscany, that you can also call 'green'.

Here you can have a proper holiday in Tuscany,
that you can also call 'green'
We grow fine quality olive trees, fruit trees (cherries, kaki, walnuts, hazelnuts, peaches, apricots and some rare varieties of apple and pear trees once local to the area), and a few varieties of grapes, such as the Sangiovese and the Canaiolo. We also produce natural local wine, Tuscan oil, homemade jam, cookies and traditional ragu.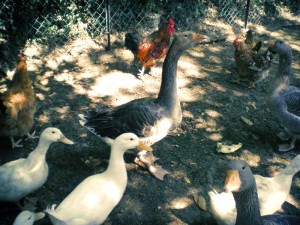 Within the estate, you can find not only chestnut wood, but also sunflowers, wheat, barley and fodder, cultivated in rotation to avoid soil depletion, maintain soil quality and guarantee biodiversity. In the green farmhouse itself, we raise various kinds of poultry: hens, geese, ducks, turkeys and guinea-fouls.
We make everything we use and guests can feel free to pick vegetables and seasonal fruit from the garden themselves as they wander the premises…. and for children, it is a rite of passage to visit the pen and feed the hens and pick up a few fresh eggs!