Our culinary school and chooking classes are designed to convey the knowledge of healthy fresh ingredients and their use in recipes from Tuscany tradition.
Leda will guide you through the recognition of the "real" ingredients and how to combine them to get the Italian dishes that speak of our land and Tuscan traditions throughout the four seasons.
All the meals we will prepare are fresh, local and seasonal. Between June and October, we will begin each of our cooking classes in the garden where we will choose the fresh vegetables and friuts, then we'll jump over to the hen house to collect the eggs before finally returning to the kitchen, where the meats and cheeses from local farms (selected by our chef) will be waiting for cook easy italian recipes.
What awaits you at a farmhouse cooking class? A warm and friendly atmosphere with many smiles, an experienced chef who has created his own way of life from tradition, loads of recipes that have been handed down for centuries from mother to daughter, healthy and wholesome ingredients, chitchat with a good glass of wine in hand and the desire of sharing good food with friends.
Our Cooking Course & Vacation package includes 3, 4 and 7 night accommodation in the cozy apartments and rooms of our organic farmhouse.
The cooking classes are scheduled in the morning and are followed by the lunch with the food you cooked personally during the lessons.
The afternoons are free to discover the authentic e unforgettable Arezzo area.
Our cooking school are aimed at anyone who likes to cook and eat healthily, with simple and tasty Italian recipes – beginner to expert, young and old.
Cooking Course & Vacation program
In the morning Leda, our cooking teacher, will guide you through the recognition of the "real" ingredients and the different aspects of the Tuscan kitchen, Leda sharing with you her cooking secrets and teaching you new flavors. You will explore differents kinds of dishes with typical ingredients and techniques from Italian cuisine. In the class you will use our organic products: extra virgin olive oil, fruit and vegetables from the garden and the eggs of our chicken. The lesson is followed by a fantastic lunch with the dishes prepared, along with the Chianti wine produced from Nonno Armando in our farm!

In the afternoon you will have free time to visit the ancient and artistic Tuscan towns or to enjoy the peaceful and the view of our farmhouse. In our agriturismo you will find all the useful information about art, museum, old towns, maps of the area, guided tours and festivals.
We also organise customised courses, courses for individual participants, as well as vegetarian and vegan courses by request.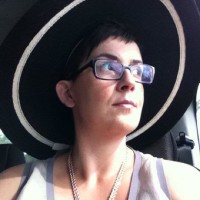 Who is Leda, our cooking classes chef?
I was born in Arezzo on the 27th of November, 1973. I spent my childhood at my family home in a tiny village near Anghiari, and the house where I live and work today: The Faggeto.
In 1999, I achieved the dream my parents had for me and obtained a degree in economics and trade. However, in 2005, with the birth of my first son Mark, I decided to leave that path to devote myself to my three passions: my children, good cooking and agriculture which produces healthy products for eating.
I made myself a fundamental rule before starting my professional culinary journey – to use only ingredients which I know from their origin. Therefore, I obviously prefer the oil produced at the farm, and flour that we get from our stone-ground wheat. These ingredients make up my starting point, to which I add more healthy and wholesome ingredients that I am very familiar with, which means I am able to use them well.
I am an oil taster and introduce people to the world of oil tasting during visits to the mill, as well as at culinary events and occasions of all kinds.
Another key ingredient is the "yeast" that has accompanied me right from childhood – first in the stories my family told, then later in the dough and cooking that my grandmother did.
I had in mind an idea of bread and oil as a healthy snack for children. I wanted to communicate that idea, and from that desire, my cooking school for children was born.
From experiences with the little ones, a basic principle is spontaneously born in adults too – a principle which seeks real knowledge of the ingredients that we use in our recipes.
By conducting cooking classes for children and adults, my life has changed dramatically. It has led me to collaborate with people who share my desire to rediscover simple recipes that are based upon the quality of the ingredients.