The Upper Tiber Valley is a land recognized internationally for Art and Crafts combination. The valley has been the birthplace of Piero della Francesca and Michelangelo Buonarroti will host from April 22 to May 1, 2023  XLIV edition of the Exhibition Market of the Tiber Valley.
Exhibition market of Anghiari – Crafts of the Tiber Valley:
tradition and modernity, in a manifestation of craft fair that embraces all sectors: from antiques to the manufacture of iron and pottery, the carved stone to precious metals, from fabrics to leather.
Show the Handicraft Market of the Tiber Valley, hosting nearly forty years the greatest master craftsmen from all over the country, with annual turnout of 40,000 visitors, confirming the reference point and meeting place for lovers and industry professionals .

Numerous initiatives side going to enrich the event, hosted in the charming village of Anghiari, town boasting artistic and artisan roots of great prestige, pearl of the Upper Tiber Valley what has given birth to Michelangelo Buonarroti and Piero della Francesca.
Handicraft market of the Tiber Valley discover side events.
https://youtu.be/mNJ4KZd0GyA?list=PLRNPiuE3w8ymJ_7O71k0t7IfGK3joYsr0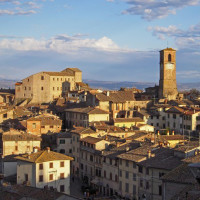 Exhibition market of Anghiari – Crafts of the Tiber Valley: the location of the fifty "workshops" in as many properties located in the heart of the historical center embellishes the path of the exhibition, who thus becomes the ideal time for a lovely vacation exploring one of the 100 most beautiful villages in Italy.
The opening hours of the exhibition market of the Tiber Valley is from 10 to 19 and the admission is completely free for all visitors.
How not to get lost the Show Market of Anghiari? Come in the Upper Tiber Valley, we still have a few places available!
To find out more, fill in the form below: