In Tuscany, the farmer's tradition (or the tradition of the countryside) has married web 2.0: ecology, short chain, km zero, recycling and cornerstones of the local culture, come together synergistically in a network that creates social value, and that, through social media, casts a small local company into a global dimension.
Dear friends,
I take a small space on the website to share with you this great achievement: I am pleased to announce that Le Ceregne Organic Farmhouse in Tuscany won the Oscar Green 2013 – Style and corporate culture award for our "ability to: combine attention for ecology; the farmers tradition (or tradition of countryside); the culture of short supply chain, km zero and recycle of objects from the past; with the adoption of cutting-edge tools and ways of promoting inspired by the 2.0 web "[Reasons for the award – Coldiretti].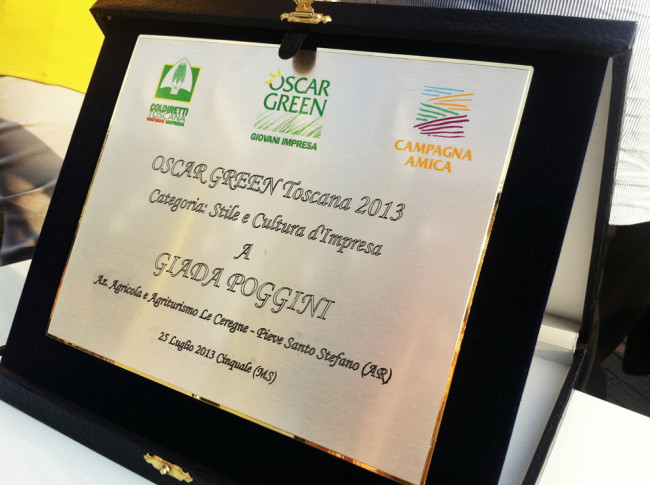 I could have commissioned a cold, precise and detailed press release about this news. I could have, but I did not, because this experience marks, for me and my family, a great achievement which celebrates our philosophy of life and our tradition.
Mine is a family of farmers, one in which ecology, a short supply chain, km zero, and consistent recycling are guaranteed. This is our way of life, not a lifestyle choice. And… It seems that Coldiretti (the Italian union and organization for agriculture) likes it as much as you do!
Do you want to know what we were rewarded for?!
Ecology
Because Le Ceregne Organic Farmhouse in Tuscany was an old farmhouse in Tuscany, now renovated according to the principles of eco-sustainability, but without affecting the essence. Want to learn more about how we done? Here is the link.
Retrieving objects from the past
The farmers, unaware of the trend of recycling, were the first proponents of recovery and reuse, because, in peasant culture, we "do not throw anything away."  So, I went to clean up the barn and attic, reusing what others might throw out: I've turned these into pieces of furniture, a process I've since discovered is called eco design!
Km 0 and "short chain"
Conscious of the fact that, today, green has become a trend (green-washed), we have preferred actions to mere words. We have created a network of farmers, artisans and producers who allow us to provide an excellent service to tourists (including experiential tours and km 0 products) and at the same time to work with local products instead of global ones. I don't know about you, but I, in my small way, can see a sort of social value in staying local and keeping green!
The adoption of cutting-edge tools and ways of promoting inspired by Web 2.0
More than the adoption of tools, I would call it the adoption of a Web Strategist! In fact, I entrusted Le Ceregne's communications to a professional who has believed and strongly supported my project, making me realize the importance of the web, today, and the endless possibilities that this tool can also offer to small structures such as ours in the future.
In times of crisis you have to invest, so I decided to invest in her! From the analysis of the market on the web, to accessibility (leceregne.it was the first site structure in the Tiber Valley to adapt its design depending on the device).From the creation of a web reputation to the strong presence in social media, Alessia Clusini has translated the tradition of Le Ceregne Organic Farmhouse in Tuscany in innovation. She has not been changed our concepts, but created great content around our traditions which she then communicates to an international audience. The results are obvious, as we have been mentioned in publications for major portals and media and Alessia has developed our audience engagement through storytelling and content marketing.
Now that we have invested in the region, we are ready to reap the rewards. Even in this case, the farmers' philosophy was successful: we have worked hard, with all we have, without being discouraged by the difficult times, and with the conviction that sooner or later we would reap the rewards and we have! We now have a large network of producers and artisans in the reason, and even an increase in bookings!
I wish I had the words to thank specifically all the people who believed, 
collaborated with us, and supported our project, but anyone who knows me knows I'm not very good at making speeches!
So, instead, I will just say thank you to all and I hope to see you soon.
Sincerely, Giada Poggini.
Ph source