The Antiques Fair Arezzo Italy (or Antiques Market) is held on the first Sunday of the month,  12 months of the year. It offers visitors to Arezzo, in Tuscany, a good compromise between a typical vintage market and an antiques fair. Here, you can find at great prices: antique furniture, antique clocks, modern, ancient objects as varied as porcelain, mirrors and jewelry, as well as vintage clothing and deco design.
The antique fair Arezzo Italy: Fiera antiquaria in Arezzo
The ancient Tuscan city of Arezzo, with its Roman ruins, medieval walls, Renaissance architecture and incomparable Piero della Francesca murals, has always been a magnet for art lovers. But on the first weekend of every month, when its Piazza Grande is filled with a motley collection of ramshackle furniture, musty paintings and stained silverware, it is a lodestone for connoisseurs, bargain hunters and junk dealers as well.Paul Hoffman, The New York Times.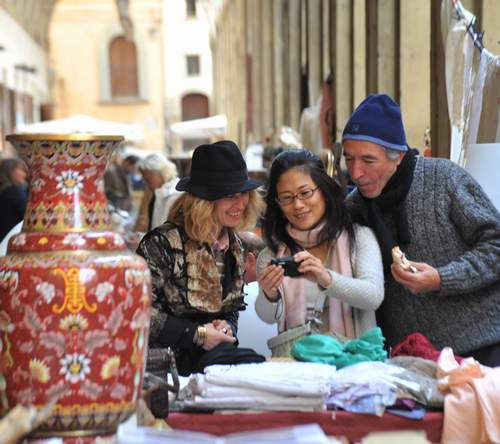 About the Antiques Fair of Arezzo
In 1968, thanks to the initiative of the antique dealer and collector Ivan Bruschi, the Antique Fair of Arezzo was the first of its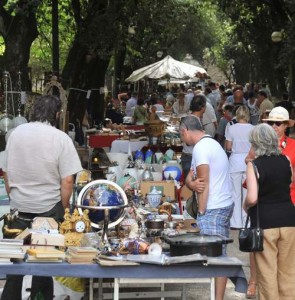 kind to be established in Italy. It's held regularly every month and over the years has grown in size and reputation.
There are now 500 vendors from across the country selling their goods at the market, which is visited by as many as 30,000 customers.
The hunting can even start the evening before market day, when deals can be done even as items are being unpacked.
Thanks to the market's success shops, local craftsmen, and art restorers of the town have increased considerably; in fact, today in Arezzo there are over 100 antique shops, a figure which in thirty years of Antique Fair has almost increased ten-fold – in 1968 the dealers were no more than 15.
In Arezzo the supply is extremely varied, and sufficient to satisfy even the most demanding collectors and art-lovers.
Hours: 8 am to 8 pm
Source: intoscana.it 
Our Arezzo Antiques Fair Tour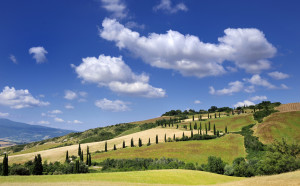 With this tour you will discover two gems of our province: Cortona and Arezzo. We first stop in Cortona for a guided visit of the town. Thanks to its position on the top of a hill Cortona offers a breathtaking view over the Valdichiana valley. This lovely village, now world-famous as the setting of the best-seller "Under the Tuscan sun", is the perfect place for a leisure stop and also boasts a glorious past: founded by the Etruscans in the 7° cen. B.C., Cortona gives you the chance of making a journey through the mysteries of the ancient civilization which constitutes the roots of Tuscan culture. You will have lunch in one of the fantastic "trattoria" of the city centre tasting some of the typical Tuscan dishes. After lunch, we will move to Arezzo to visit a winery and taste a great wine from a nice farm with a panoramic view of the town. We finally reach the city centre to enjoy the antique fair. The alleys of the town are dotted with many stands and the atmosphere is unique!
CONTACT US to know more about the Arezzo Antiques Fair Tour! 
Le Ceregne Organic Farmhouse experiential Tours

As an example of sustainability in tourism, we're offering experiential tours where the guests learn farming and making pasta and bread, pick olives and grapes, mushrooms and truffle hunting, enjoy tailor-made green tours and craftmanship tours. We only employ locals and try to give a real sense of local lifestyle to tourists. Also through storytelling and working with local memories… so that they return home having had an amazing experience, without feeling like they have had to spend a fortune to do it! What are you waiting for? CONTACT US! Try our experiential tours in Italy… join our Tuscan tribe!
Ph source:
Fair: zerodelta.net
Cortona: http://goo.gl/i5eCK
The antique fair Arezzo Italy: Fiera antiquaria in Arezzo