The Tuscan recipes bread soup (Minestra di pane) is a typical Tuscan dish, always present during the winter in the tables of our farmers. 
The Tuscan recipes "Minestra di Pane" (Bread Soup) is a dish poor and tasty made with stale Tuscan bread and seasonal vegetables. Of this dish I have an indelible memory of my grandmother who brought me in the morning to pick fresh vegetables in the fields of our farm and then in the afternoon cooked them over the economic stove in the great home kitchen.
Ingredients: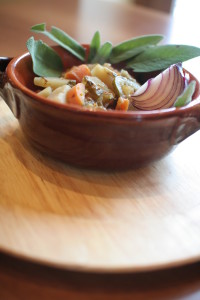 - 3 onions for the soup, 1 onion for crudités
- 6 carrots
- 4 celery ribs
- 4 medium-large potatoes
- 1 handful of chard
- 1 bunch of kale
- 250 grams of cooked beans
- 250 grams of cooked chickpeas
- 500 grams of peeled tomatoes
- Extra virgin olive oil
- Salt
- Black pepper
- 4 litres of water
- Half a kilo of stale Tuscan bread (without salt)
Method:
place the night before to soak in fresh water the beans and chickpeas; then cook them in salted water, bring half cooked and set aside. Take the othervegetables wash and cut into medium-sized pieces, except the onion is cut into small pieces. Then put the extra virgin olive oil in the pan to cover the bottom and when it is hot put onion, carrots and cook for 5 minutes. Add the potatoes and continue to cook for another 5 minutes. Then chard and kale, and finally the beans and chickpeas. After 5 minutes, add the tomatoes and cook it all, still over medium heat for 2 minutes. Finally add salt, pepper and water to cover the vegetables. Reduce heat to low and let all cook for 2 hours.
Taking the bread and cut it into slices about one centimeter and cut them into pieces. Place the slices of bread in a bowl, add the soup and keep it for a minimum of three layers of bread and ending with a layer of soup. Let stand the soup for 30 minutes and serve.
The tradition includes eating the bread soup with slices of fresh onion with salt.
To make it even more tasty the soup, add over each layer of bread a handful of grated pecorino cheese.
Accompanied the bread soup with a good red Chianti red bon appetit!
For more informations please send fill out this form: