Discover Renaissance in the land of Piero della Francesca, The Tiberina Valley in Tuscany. Organise here your Italian art tour.
Italian Art and The Renaissance are not just about Leonardo Da Vinci.
Piero della Francesca (Borgo Sansepolcro, circa 1416/1417 – Borgo Sansepolcro, October 12, 1492) was an Italian painter and mathematician. Among the most emblematic personality of the Italian Renaissance, Piero was a member of the second generation of painters-humanist, the main expert on perspective, who pioneered painting in the "third dimension" and changes the whole history of art.
We have asked our tour operator Sara and Andrea from VeryTuscany, to organise an art tour in Valtiberina for Le Ceregne Organic Farmhouse.
Arezzo, the homeland of Piero della Francesca
Our itinerary starts in Sansepolcro where Piero della Francesca was born in 1412. The Civic Museum displays four of his works, including the marvellous fresco "La Resurrezione" painted on the central wall of the Hearing Hall. Driving through Valtiberina's hills we reach Monterchi, a nice village near the border of Umbria, where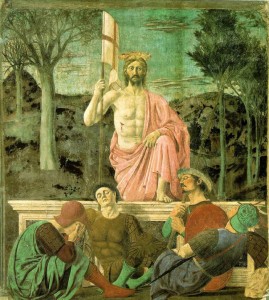 we find the wonderful "Madonna del Parto".
The day ends in Arezzo which boasts a beautiful representation of Magdalene and, in the Basilica of San Francesco, the unrivalled masterpiece of Piero: the cycle of frescos named "The Legend of the True Cross" which, after a long period of restoration, was returned to its original splendour. This tour is a good opportunity to discover the beautiful city centre which is extremely rich in interesting palaces and art masterpieces such as the works of art of Giorgio Vasari, the glazed terracotta pieces of the Della Robbia family and the shining stained-glass windows by the French Master Guillaume de Marcillat.
Discover that the Renaissance is not only about Leonardo Da Vinci in the land of Piero della Francesca. Experience art in Italy with our local tour operators. Please
CONTACT US
. May is the ideal month for an art tour in Italy!